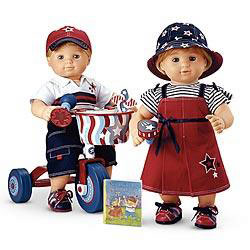 Red & Blue for Two Outfits
$40 BTBO
All eyes will be on Sister in her ribbon-trimmed jumper, striped top, bucket hat, and sling-back shoes. Brother shows his spirit in an embroidered polo shirt, cargo shorts, baseball cap, and sneakers. Includes the board book The Bitty Twins' Parade.
Released Spring 2005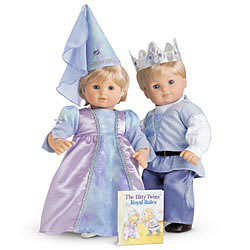 Bitty Twins Royalty Outfits
$44 BTCO
In the kingdom of the Bitty Twins, the princess wears a lavender gown trimmed with metallic yarn and ribbon, a chiffon-draped hat, and satin slippers. Her brother, the prince, wears a tunic with attached belt, a white shirt, pants, a crown, and boots. Includes the hardcover book The Bitty Twins' Royal Rules.
Released Summer 2005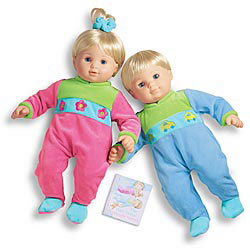 Color Block Sleepers
$28 BTMOA
These colorblock velour sleepers are as soft and cuddly as the Twins themselves. Brother's outfit is bright blue, embroidered with cars. Sister's is vibrant pink, embroidered with flowers!
Released 2005