The original 20 faces for the American Girl of Today dolls.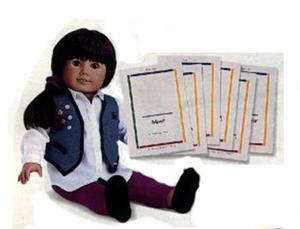 Mix & Match Outfit
Your doll comes dressed as shown.  She has beautiful bright eyes that open and close, and long hair to style into all the looks you love to wear.  She arrives dressed in a mix and match outfit that includes:
Magenta leggings
Magenta tee shirt
Magenta scrunchie
Big white shirt
Reversible denim vest
10 Mini Grin Pins
Black suede flats

Your doll comes with a set of six blank books.  Write you doll's name on the covers, then write and illustrate her stories.  Inside each book is a helpful Writer's Guide, How to Write an American Girl's Story.  Books come with a handy stencil for decorating your stories.

$82
(outfit discontinued 1996)
(See appendix)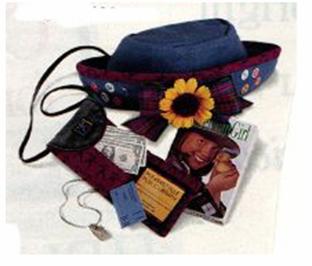 Girl of Today Accessories
Complete her outfit with Girl of Today accessories:
Sunflower hat
AG pendant
Wallet purse
3 pretend dollars
Lunch tickets
Library card
Mini magazine
10 Mini Grin Pins
$20 GMA  discontinued 1996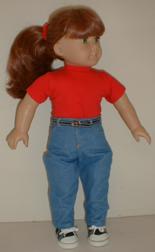 Blue Jean Basics
Send your American Girl of Today off to school or play in a pair of faded five pocket blue jeans, a red T-shirt, yellow socks, and a pair of black-and-white high-top tennis shoes.
$20 GSO  discontinued 1999
(See appendix)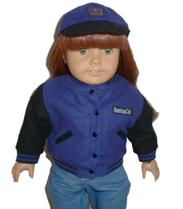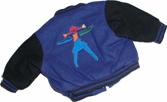 Jacket & Cap
Bold AG logos on the front and back of this purple jacket tell the world that she's proud to be an American Girl.  Comes with matching cap.
$20 GSOB   discontinued 2001???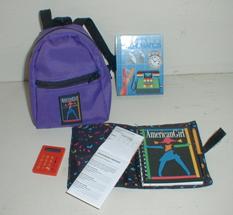 School Gear
Everything your American Girl needs to get straight A's fits into her backpack:
Notebook paper
Spiral notebook
Pencil
Report card
Calculator
Math book
Remember—no TV until homework's done!
$20 GSA   discontinued 1999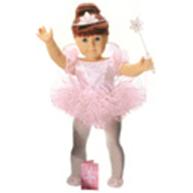 Ballet Costume
Your Girl of Today makes her holiday debut as the Sugar Plum fairy!  She'll wow the crowd in a pink tutu with iridescent wings, a sparkling tiara, and a magic wand.  Comes with pink ballet slippers, white tights, and a program for The Nutcracker.
$22 GCO   discontinued 1999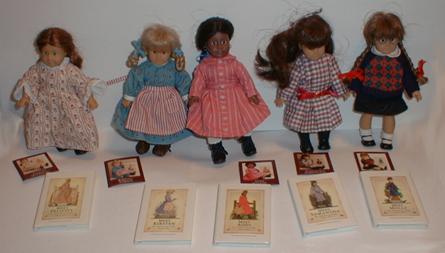 Mini Dolls of the American Girls
Of course the doll that every Girl of Today wants this holiday season is from The American Girl's Collection.  Select one for your girl or give her a set of all five!  Each 6-inch mini-doll comes with a tiny version of the first book in her series—fun bedtime reading for your American Girl and you!
$20 each   discontinued 2001
(the mini dolls also originally came with the mini "Meet" pamphlets, when the new version of the mini dolls came out in 2001 no pamphlets were included)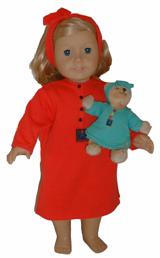 Slumber Shirt & Mini Bear
Pop up a big bowl of popcorn, pop in a favorite video, and put on this cozy red fleece nightshirt with matching headband.  A mini Miss AG Bear will keep your Girl of Today company on the couch!
(Mini Miss AG Bear based on a larger Miss AG Bear, see appendix page 21)
$16 GTO   discontinued 1996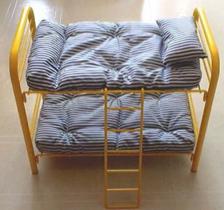 Bunk Bed
Today's American Girl has a bunk bed made of bright yellow metal tubing with a ladder to get to the top bunk.  Perfect for sisters—or for sleepovers!  Included are two soft mattresses and two black-and-white striped pillows.
$65 GBB   discontinued 2000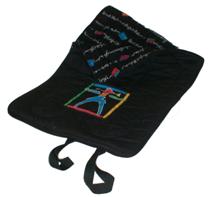 Sleep Sack
Your Girl of Today can tote her sleeping bag along to slumber parties where everyone will be buzzing about the logo on the front that glows in the dark!  Or unzip the bag all the way around for two fluffy comforters that are just the right size for her bunk beds.
$18 GTSB   discontinued 2001