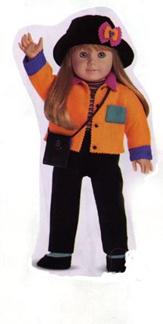 First Day Outfit
The new outfit that the American Girl of Today doll comes in is the gold fleece jacket outfit which includes:
Striped t-shirt
Stretch velour pants
Fleece shirtjac
Turquoise anklets
10 Stick-on Mini Grin Pins
Black flats
Hair scrunchie
Magenta underpants
The doll also still comes with the set of 6 blank books and the writing guides and stencil.
$82
Outfit only (minus the black flats) $20 GMOB
(outfit discontinued 1998)
(See appendix)
Girl of Today Accessories
Velvet hat
AG pendant
Wallet purse
3 pretend dollars
Lunch tickets
Library card
Mini magazine
10 Stick-on Mini Grin Pins
$20 GMAB   discontinued 1998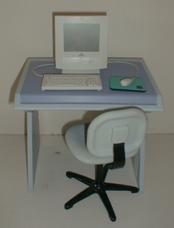 Computer Desk & Chair
Set your American Girl's computer on this sturdy desk so she can do her homework.  There's even a pencil tray built right in.  A chair with a soft swivel seat and comfy backrest is the perfect place to sit and surf the Net.
$40 GSF   discontinued 1999
Mini Macintosh
Boot your American Girl's Apple Macintosh computer with the flip of a switch.  Use the keyboard to scroll through her field trip report about the planetarium.  Scoot the mouse along the mousepad to add stars to the constellation on the screen.
$32 GSAC   discontinued 1999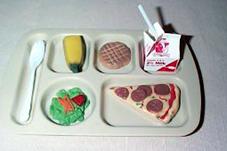 School Lunch
No need to pack a sack for your American Girl—it's hot lunch day.  Load her tray with a slice of pizza, a garden salad, half a banana, a carton of milk, and a peanut butter cookie.  Don't forget the napkin, straw, and "spork!"
Also includes special tray holder.
$16 GSAL   discontinued 1999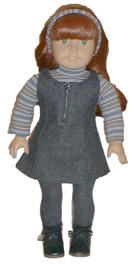 School Jumper
Send your American girl to the cafeteria in a fit-and-flare gray flannel jumper, a multistriped mock-T, and matching stretch headband.  Add ribbed tweed tights and black boots with bouncy rubber soles.  Save a place for her at your table!
$20 GSOE   discontinued 2001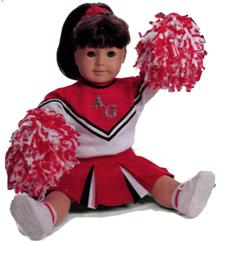 Cheerleader Outfit
Your American Girl's got spirit to spare and a cheer to share!  Dress her in a classis pleated skirt, pullover, ankle socks, white tennies, and a hair scrunchie.  She's wearing red briefs for those cartwheels, and has pompons to lead the wave!
$22 GSOC   discontinued 1999
(See appendix)
Soccer Gear
Your American Girl will kick off the season like a pro in her striped shorts with embroidered logo shiny jersey, kneesocks, cleats, shin guards, and a hair scrunchie.  After practice, pack the ball in her duffle bag.
$24 GSOD   discontinued 2001
(See appendix)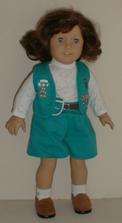 Girl Scout Uniform
Dress your American Girl Scout for a troop meeting in her official uniform: shirt, culotte, and matching vest emblazoned with proficiency badges.  Add a belt-purse, white socks, and comfy brown suede loafers.  Then teach her The Girl Scout Promise: "On my honor…."
$22 GSOG   discontinued 1999
(See appendix)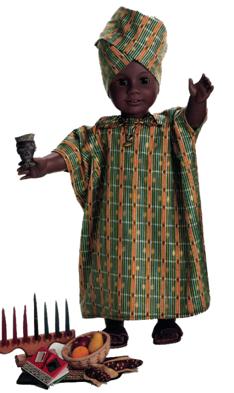 Kwanzaa Outfit
Dress your American Girl for Kwanzaa, a celebration of African heritage and culture.  Her buba—a traditional gown—and elegant matching head wrap are made of African fabric.  A beaded necklace and soft leather sandals add a final festive touch.
$22 GCOC   discontinued 1999
Kwanzaa Decorations
Set out these seven practical accessories—each stands for a Kwanzaa principle:
Unity cup
Woven mat
Basket of fruit
Kinara candleholder
7 pretend candles
2 ears of corn
Mini Kwanzaa book
$20 GCAZ   discontinued 1999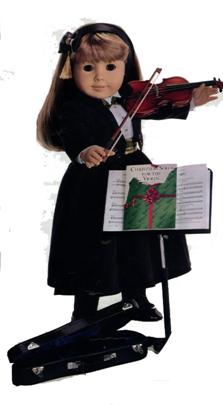 Recital Outfit
Send your American Girl out for a curtain call in this elegant ladylike tuxedo—a satin skirt with cummerbund and a cutaway jacket with a crisp gold studded blouse.  Add a glittering bow tie, tights, shiny patent shoes, and a headband with a golden tassel—bravo!
$24 GCOB   discontinued 1999
Violin & Stand
Your American Girl will star in the holiday recital with a beautiful wooden violin that really works.  It comes with a bow, real rosin, and a case with blue velvet lining.  Set her music on the adjustable stand—there's a practice book and a holiday music book.
$30 GCAV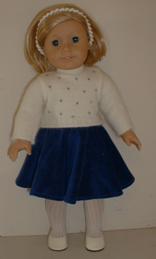 Hanukkah Outfit
Your American Girl will celebrate Hanukkah, the Festival of Lights, in a soft angora sweater sprinkled with sparkling rhinestones and a skirt of royal blue velvet.  Complete her outfit with patterned tights, a silver-and-white twist headband, and a pair of slippers.
$22 GCOE   discontinued 1999
Hanukkah Gifts
Mark the eight days of Hanukkah with the menorah and pretend candles.  Give your American Girl a silver Star-of-David necklace and four golden coins called gelt.  Spin the dreidel—a toy that Jewish girls have loved for centuries.
$14 GCAH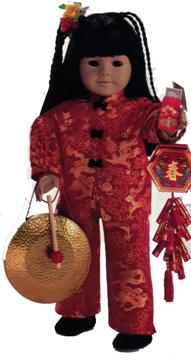 Chinese New Year Outfit
Your American Girl will welcome in the new year in a stunning brocade tunic adorned with dancing dragons.  Matching pants, a red undershirt, a floral barrette, soft slippers, and red hair ribbons complete her holiday finery.
$24 GCOD   discontinued 1999
(See appendix)
Chinese New Year Celebration
Start the Chinese New Year with a bang!  Your American Girl has a traditional brass gong to strike with a wooden mallet, and make-believe firecrackers to scare evil spirits away.  Give her a lucky red envelope with a pretend dollar tucked inside for good luck.
$14 GCAC   discontinued 1999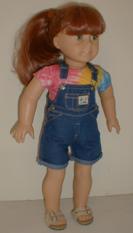 Earth Day Outfit
Celebrate Earth Day—even on birthdays!  Dress your doll in bib overall shorts and an individually tie-dyed T-shirt, then add a leather barrette to hold her hair back.  Even her sandals make a statement—they leave the "recycle" imprint wherever she goes!
$22 GBOC   discontinued 1998???
(See appendix)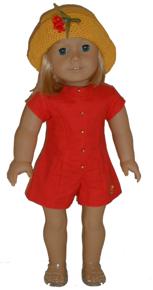 Culotte Dress
Your American Girl will stay cool from head to toe in a floppy yarn hat with a blossom on the brim, and a red-hot culotte dress.  Best of all, she's got a pair of jellies—fun see-thought sandals for air-conditioned feet!
$22 GBOD   discontinued 1998???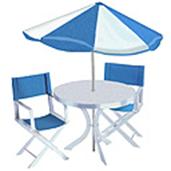 Patio Furniture
Set up the sturdy patio table and open the big blue-and-white umbrella—it's designed to tilt so your party guests will have it made in the shade!  Two director's chairs have removable cloth seats and backrests, and fold for easy storage.
$70 GF   discontinued 1998???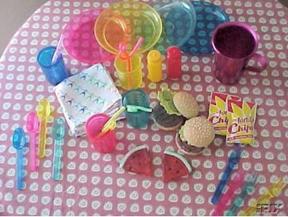 Birthday Cookout
Look what's cooking!  Two juicy hamburgers with all the fixin's, two bags of tortilla chips, and two icy cold slices of watermelon.  Serve it up in style with a bright patio set that includes:
4 plates
4 tumblers
4 twisty straws
4 forks & spoons
4 cloth napkins
Catsup & mustard
Aluminum pitcher
$28 GBAC   discontinued 1998???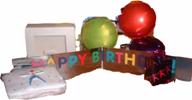 Patio Party Treats
Sing "Happy Birthday" to your American Girl and serve up a scrumptious cake with fancy frosting and a removable make-believe candle.  It even comes in a bakery box.  Decorate with a shiny birthday banner and three bright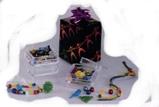 balloons.  Then watch your birthday girl's eyes light up when she unwraps the gift she wished for—a beaded bracelet kit.  Three boxes brim with colorful beads, charms, rainbow cording, and elastic string.  Make two or three doll-sized bracelets, or just one for you!  The birthday card inside gives how to tips.
$20 GBAP   discontinued 1998???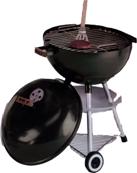 American Grill
Fix your American Grill a birthday feast on an all-American grill—a genuine kettle-style Weber with a glowing pile of make-believe charcoal.  Cook the burgers, then use the handy spatula to flip 'em high.
$35 GBAN   discontinued 1998???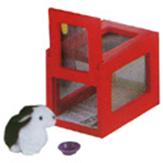 Baxter the Bunny
Any American Girl would love a honey of a bunny like Baxter for her birthday.  He comes with a bright red hutch and a purple water bowl.  Give him a nibble of lettuce for lunch!
$14 GBAA   discontinued 1998???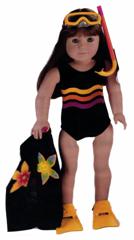 Swim Set
Before diving into the party treats, there's time to take a dip in the pool.  Your American Girl's striped tank suit, mask, snorkel, flippers, and bright beach towel are sure to make a splash.
$22 GBOA   discontinued 1998???
In-line Gear
Whoosh!  Get your American Girl ready to roll in bike shorts and an AG t-shirt.  Strap on her sleek in-line skates, and make sure she wears her helmet, wrist guards, and knee pads just in case!
$28 GBOB   discontinued 2001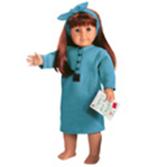 Slumber Shirt
Pop up a big bowl of popcorn, pop in a favorite video, and pop this toasty fleece nightshirt with matching headband on your American Girl.  A mini Games and Giggles book will keep her busy 'til bedtime.
$18 GTOD   discontinued 1998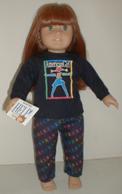 AG PJs
Tuck your American Girl into bed in a pair of cozy PJs.  The pull-on bottoms are loose and comfy.  The long-sleeved top has a glow-in-the-dark logo so she can read Help!, her American Girl Library book, even after lights-out!
$18 GTOB   discontinued 1998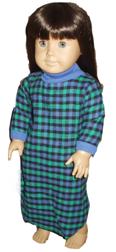 Plaid Nightie
When winter winds blow, nothing feels warmer that a soft flannel nightie.  Your American Girl's gown is a brightened-up version of a classic plaid with stretchy cuffs and a turtleneck to snuggle into.  Comes with a mini Crafts for Girls book.
$18 GTOC   discontinued 1998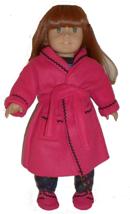 Fleece Robe & Slippers
Bundle your American Girl up in a pink robe that's fluffy, fleecy—altogether easy!  It has snazzy black zigzag trim, a belt that knots around the waist, and a pair of matching slippers.  Perfect to pair with all of her sleepwear!
$18 GNO   discontinued 1998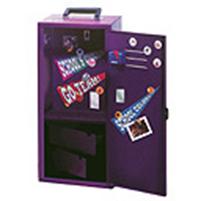 School Locker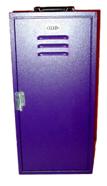 Decorate your American Girl's locker with pennants, posters, and magnets.  Then load it up with all her gear.  A hanging bar, hooks, and two swing-out drawers are perfect for her clothes.  When it's time to travel, you can even stow your doll inside!
$100 GT   discontinued 2000
(See appendix)
Hairdo Helper Hardware Kit
This carrying case comes with everything you need for oodles of doll hairdos.
3 Elastic pony-O's
6 Twisty rollers
3 Butterfly clips
2 Sparklettes
1 Piggy flip
1 Pony-S
$12 GTAS   discontinued 2002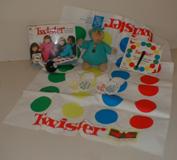 Slumber Party Gear & Bear
Get any slumber party off on the right foot with a lively game of Twister—there are nonskid socks to keep your American Girl on her toes.  Later, she and Mini Miss AG Bear can consult the mini Magic 8 Ball about all of life's little mysteries.
$18 GTAP   discontinued 1998
(Mini Miss AG Bear based on a larger Miss AG Bear, see appendix)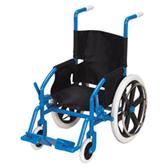 Wheel Chair
For the American Girl who needs her own wheels to get around, this sturdy wheelchair is just the ticket.  The footrests are fully adjustable, and there's a side pocket for important stuff.  There's no stopping her now!
$28 GWC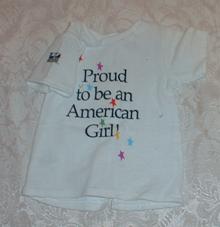 American Girl Tenth Anniversary Shirt
Introduced in 1996 during the tenth anniversary of the American Girl doll line.  Originally sold as part of a set of a matching girl and doll sized t-shirt.
$14.95 for the set   discontinued

Doll Glasses
Choose from three different styles of eyeglasses—all have unbreakable lenses and will fit your 18" dolls.  Each comes in a red felt case.
Silver Round $6 MDG
Tortoiseshell Oval $6 GLB
Gold Oval $6 GLA