GT6 gets a makeover:
GT6's hair changes from black to blond and her eyes change from dark brown to green.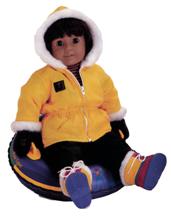 Terrific Tubing
Watch out below! Your American Girl will be the bright spot on the hill in her yellow hooded parka trimmed in faux fur.  Her black mittens and snazzy boots will keep her toasty.  Puff up the inflatable tube and hold on tight!
$24 GWOE   discontinued 2001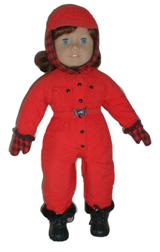 Dogsled Outfit
Your American Girl is off to the races!  Better bundle her up in a red snowsuit, checked hat, and matching mittens.  Then slip on a pair of heavy boots to keep her toes warm from start to finish line.  Now she's ready to mush those huskies!
$20 GWOC   discontinued 2000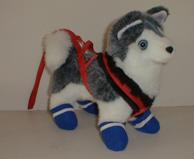 Husky Dog
Your American Girl has a faithful husky dog to pull her sled.  With bright blue eyes, fluffy fake fur, and a posable tail, he comes ready to race with a black and red harness and four blue booties to protect his paws from the sharp ice along the trail.
$15 GWAH   discontinued 2000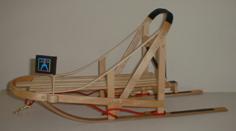 Dogsled
Whether she's steering or riding, your American Girl will have big winter fun with her own wooden dogsled.  Show her the ropes, the foot brake that really works, and the removable AG flag that snaps proudly in the wind.
$38 GWAS   discontinued 2000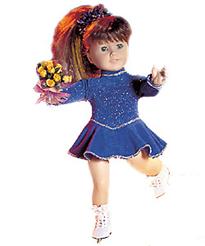 Skating Star
Bravo!  The spotlight's on your American Girl when she's performing in her flashy purple sequin-trimmed skating dress with matching barrette.  Hope she lands her big jump!
$18 GWOB   discontinued 2002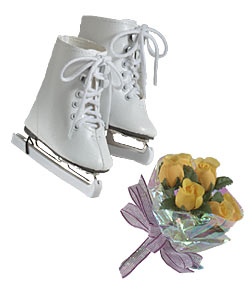 Skating Gear
Your American Girl is a little nervous as she slips off the skate guards on her new white ice skates and glides out onto the ice.  Hand her a big bouquet of yellow roses when she finishes her routine!
$15 GWAF   discontinued 2002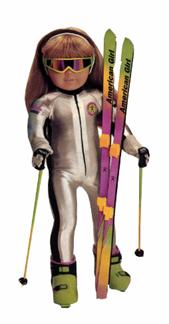 Downhill Racer
Want to race like the wind with your American Girl?  Just zip her into her speedy silver and black ski suit with matching gloves and headband.  Her sporty wraparound sunglasses keep her from squinting on the sunny slopes.
$18 GWOD   discontinued 2000
Downhill Ski Gear
Buckle your American Girl into her bright racing ski boots, fasten the bindings on her AG skis, and hand over her ski poles.  Now watch her fly over those moguls—alley-oop!
$24 GWAD   discontinued 2000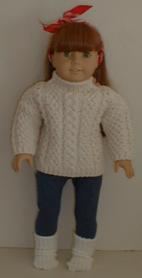 Après-Ski Wear
After a day on the slopes your American Girl can curl up by the fire in her leggings, cozy cable sweater, and socks.  If she's too tired to do much with her hair, pull it back in a cute red bandana.  Now pour a cup of cocoa and get comfy.
$20 GWOA   discontinued 2001???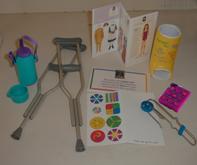 Après-Ski Gear
If your American Girl hits the slopes too hard, come to her rescue with a cast and crutches.  Keep her entertained with a fun spinning toy, paper doll, and tic-tac-toe game.  Since she can't get up easily, keep her drink carrier handy for that cocoa!
$18 GWAA   discontinued 2001???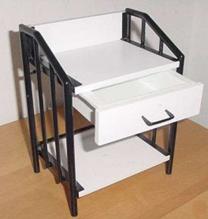 Nightstand
Your Girl of Today has a nightstand made of thoroughly modern materials—sturdy white laminate and shiny black metal tubing.  A shelf and pullout drawer are perfect for keeping her nighttime necessities nearby.
$32 GTF   discontinued 2000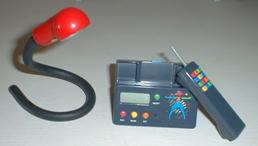 Nighttime necessities
Your American Girl's flex light wraps around anything and really works!  Her 2-in-1 alarm clock/phone is a real convenience, too.  Make pretend phone calls on her cordless phone, record a real message to wake her, and set the alarm clock so she won't oversleep.  Hit the snooze button for eight extra minutes of ZZZs.
$20 GTA   discontinued 2000